Jumpstart Your Business with an Electrifying Van
2023 Ford E-Transit - A Better Way to Perform
Pursue excellence in the office and on the road. The meeting between your business and the 2023 Ford E-Transit is kismet. This electrifying van delivers the reliability, safety, drivability, comfort, and versatility you need to elevate your commercial operations to greater heights. And because it comes from Ford, one of the most trusted automotive brands on the road, customers will have more confidence in what you offer.
• 40% fewer scheduled maintenance costs*
• Zero tailpipe emissions vehicle**
• 300 Qualified upfitters around the country
• Supported by Ford Pro™ Network
*Scheduled maintenance costs based on recommended service schedule as published in the Owner's Manual. Analysis reflects Ford Motor Company's standard method for calculating scheduled maintenance cost and reflects data available in 2019 and 2020.
**Visit fueleconomy.gov for more information.
BACKED BY THE BEST
Ford Pro is committed to you and your business. When you trust Ford for your commercial vehicle needs, you have the backing of a company that has been America's best-selling line of commercial vehicles for 37* straight years.
*Ford brand leads based on S&P Global Mobility CY1985-2021 US TIPNet Registrations excluding registrations to individuals. TIPNet Registrations prior to 2010 do not include all GVW 1 and 2 vehicles.
Your Work Van Says A Lot About You
Your business' brand is important. Like in any form of communication, it's the non-verbal nuances that say a lot. That's why choosing the right commercial van is important. Make a great impression while serving your communities in Pembroke Pines, Miami, and Ft. Lauderdale.
The 2023 E-Transit is the commercial van that lets your customers know you're dedicated to providing excellent service while remaining committed to the environment. With zero tailpipe emissions, the E-Transit is your ticket to a more secure future.
Get In & Drive
The 2023 E-Transit offers various designs tailored to your business needs. With these changes, you'll also experience various projected driving ranges. Take a look at the different ranges you can enjoy.
Cargo Van Low Roof - 126 Miles
Cargo Van Medium Roof - 116 Miles
Cargo Van High Roof - 108 Miles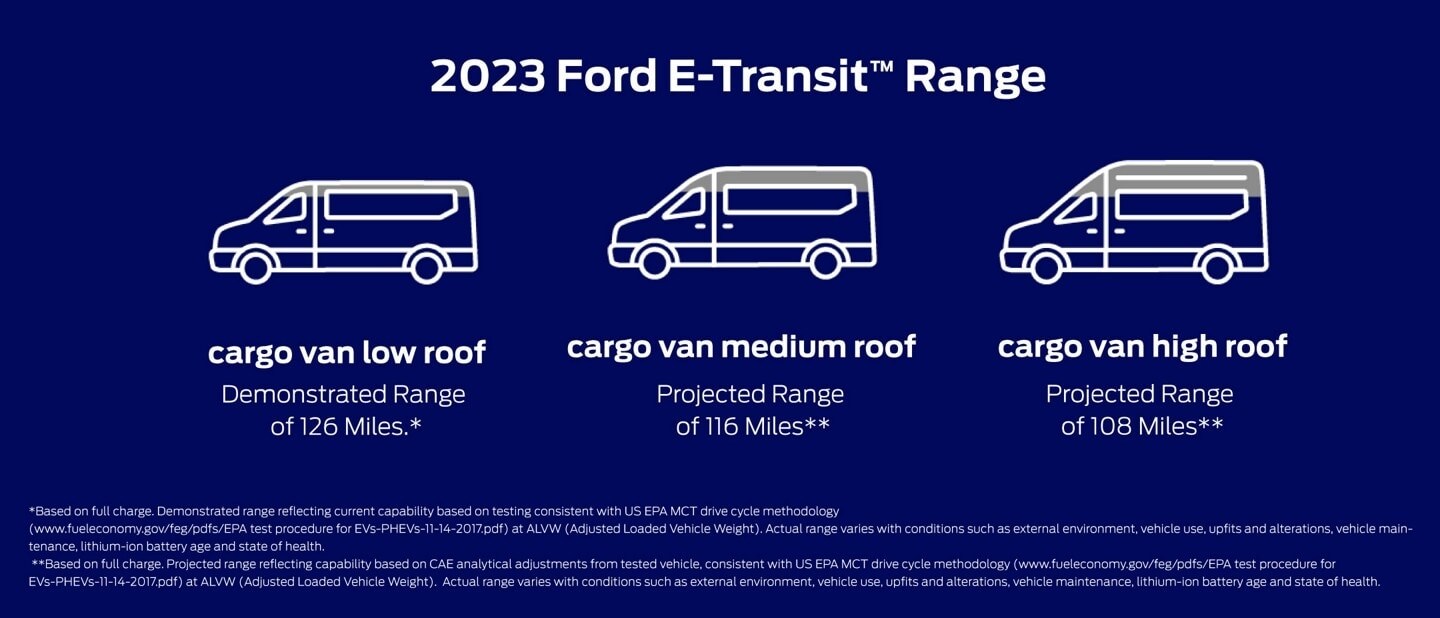 Sized To Your Needs
Choose the 2023 E-Transit that's right for your commercial needs. This vehicle offers three available lengths, roof heights, and models (cargo van, chassis cab, and cutaway). And with standard SYNC® 4, you and your employees can enjoy great infotainment between stops. It's the ultimate vehicle for your business.
HARDWORKING. EFFICIENT. ELECTRIC.
A hardworking vehicle for hard workers. The E-Transit™ model does everything but compromise. For instance, by placing the battery underneath the body of the vehicle, you get the benefits of an electric powertrain without using up cargo space. And, this vehicle boasts impressive range on a single charge. With the extra space, you can be sure to have all the parts you need for your business on-board. if you're at a house call in Ft. Lauderdale and need to head back to home base in Pembroke Pines to grab something, rest assured the E-Transit's battery capacity has you covered with no stops in between.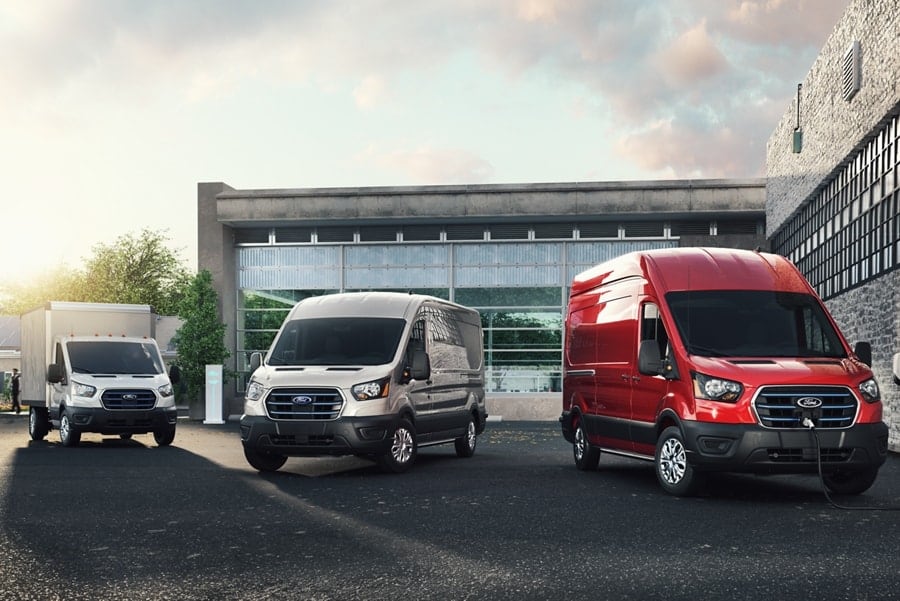 ONE SIZE NEVER FITS ALL
The 2023 E-Transit™ model is available:
In 3 lengths
In 3 roof heights (low, medium, high)
In 3 models: cargo van, chassis cab and cutaway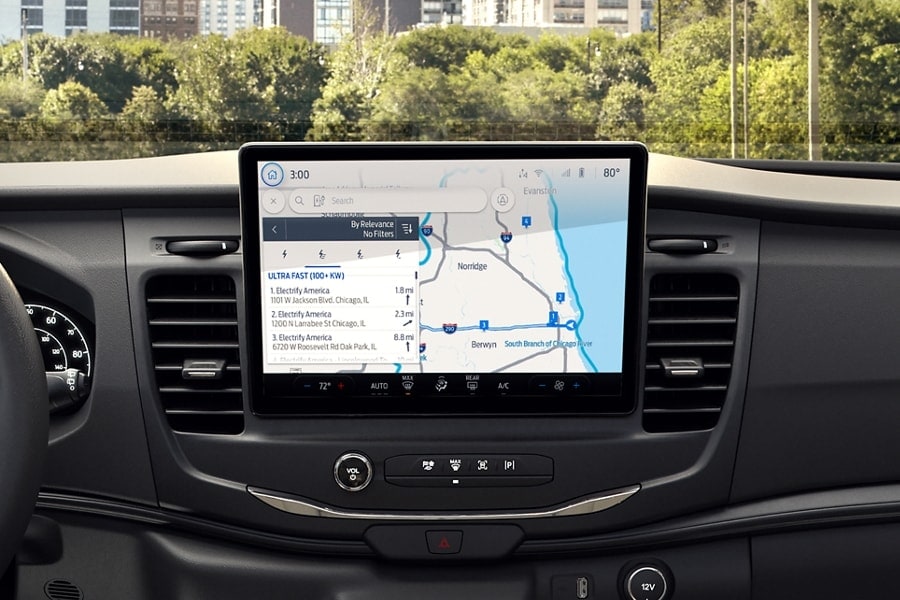 SYNC 4®
Looking for a charging station? Searching for directions to your next job site? SYNC®*  has got your back.
SYNC 4 is standard
12" screen
Enhanced voice recognition
Your playlists
Requires phone with active data service and compatible software. SYNC 3/SYNC 4 does not control 3rd party products while in use. 3rd Parties are solely responsible for their respective functionality.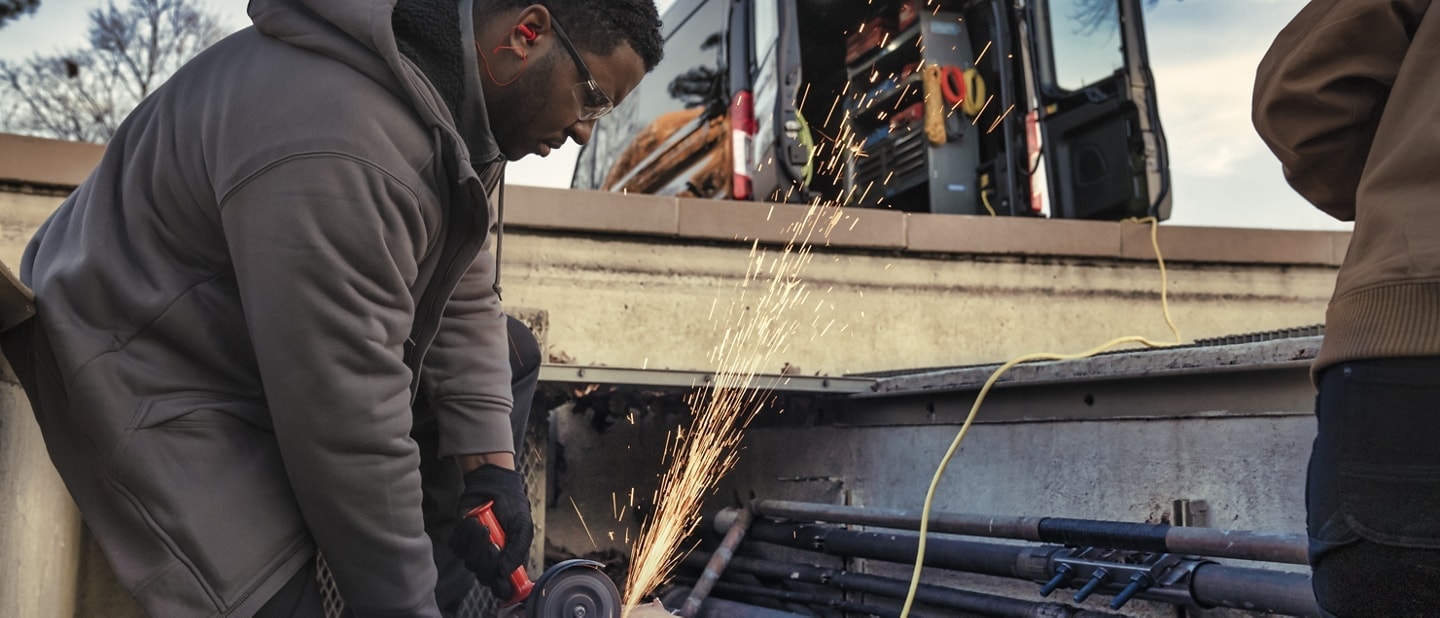 PRO POWER ONBOARD
Run power tools, jackhammers, circular saws-on the go. The available Pro Power Onboard* supplies 2.4kW of power, and works while the van is being driven. When you reach that next job, you'll be ready. Already.
*See Owner's Manual for important operating instructions.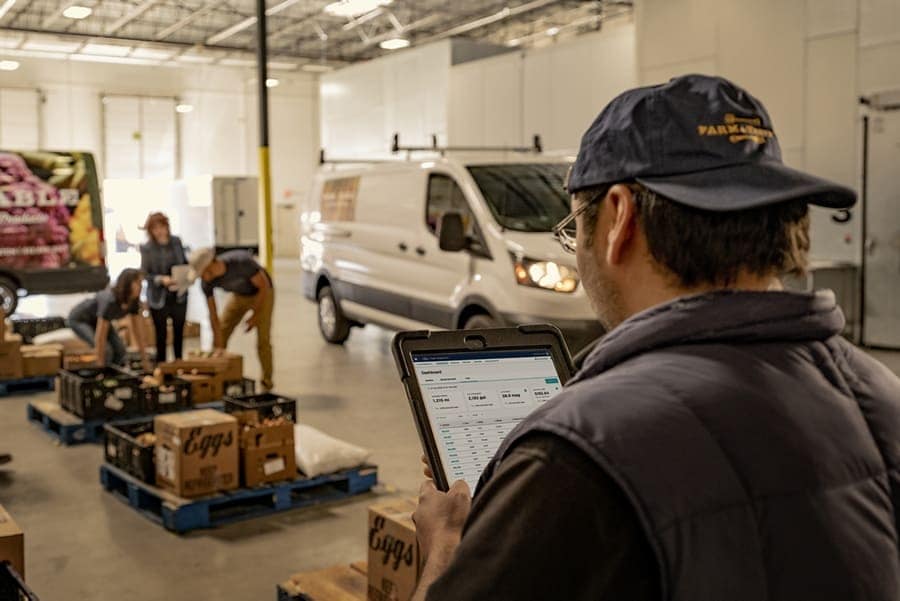 BETTER FOR YOUR BOTTOM LINE
Did you know that purchasing an all-electric vehicle may qualify you for a federal tax incentive or State tax incentive?* Also, an all-electric vehicle doesn't require gas, so it may potentially lower scheduled maintenance costs by as much as 40%. **
*Please consult your tax professional to determine eligibility and amount of your incentive. The federal tax credit is a potential future tax savings. The amount of your tax savings will depend on your individual tax circumstances. Tax incentives are not within the control of Ford control and this information does not constitute tax advice. https://afdc.energy.gov/laws/409.
**Scheduled maintenance costs based on recommended service schedule as published in the Owner's Manual. Analysis reflects Ford Motor Company's standard method for calculating scheduled maintenance cost and reflects data available in 2019 and 2020.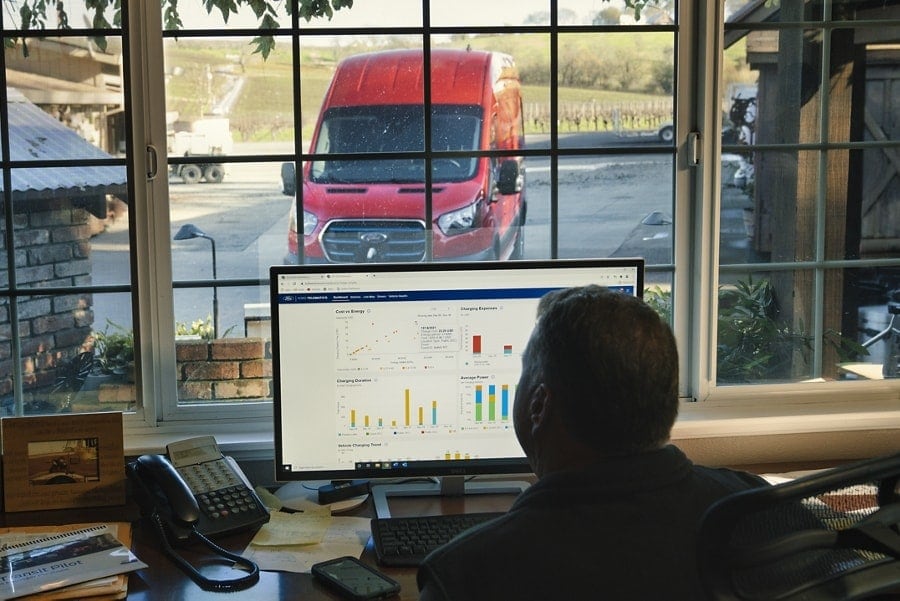 STAY IN THE KNOW
Manage all-electric vehicle charging with Ford Pro™ E-Telematics. * E-Telematics is available at no extra charge for the first three years of electric vehicle ownership, monitors the charge status of your electric fleet, automatic software updates, usage reports and more.
*Eligible vehicles receive a complimentary three-year trial of E-Telematics service that begins on the new vehicle warranty start date. Requires modem activation.Terms and conditions apply. Telematics service and features, and access to vehicle data, depend on compatible AT&T network availability. Evolving technology/cellular networks/vehicle capability may limit functionality and prevent operation of connected features. After the 3-year trial, annual service contract is required for E-Telematics service. Call 1-833-811-3673 to activate E-Telematics service.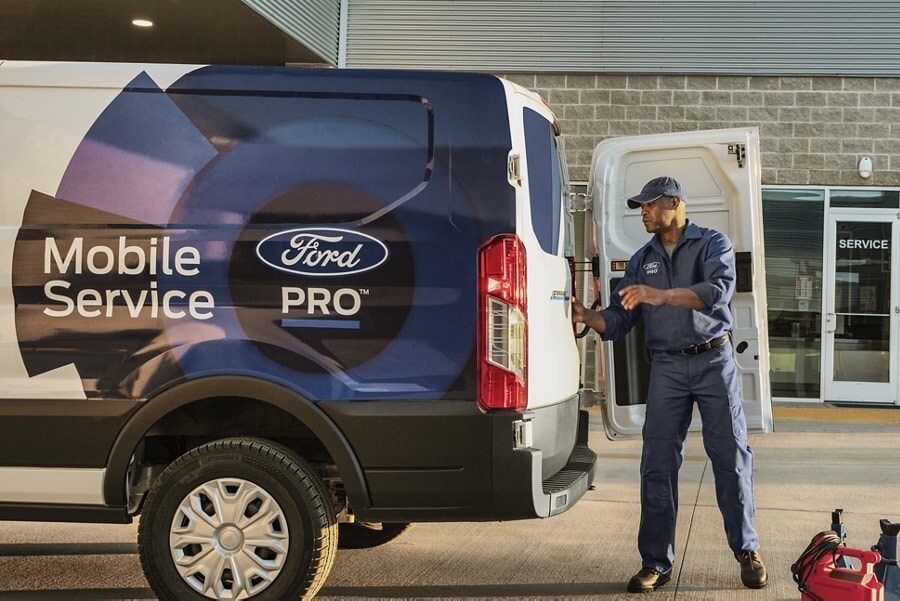 FORD PRO™
We don't just build vehicles. We help drive business. Imagine combining the cars, trucks, vans and SUVs you need to build your fleet with the service options, financing, charging solutions* and telematics data you need to manage it. With Ford Pro, you can do just that and much more.
*Ford Pro Charging depot software subscription and Ford Telematics subscription required. Chargers must conform to Open Charge Point Protocol (OCPP) 1.6-J industry standard and be internet-connected. Ford Telematics requires modem activation or plug-in device (PID) purchase and activation for non-Ford electric vehicles. Ford Pro Charging depot software, Ford Telematics and Ford Data Services are subscription services subject to agreement to Ford Smart Mobility terms and conditions. Subscription subject to monthly charge. Subject to OFAC and credit check for subscription eligibility. Connected Service and features, and access to vehicle and charger data depend on subscription and compatible cellular network availability. Evolving technology/cellular networks/vehicle and charger capability may limit functionality and prevent operation of connected features.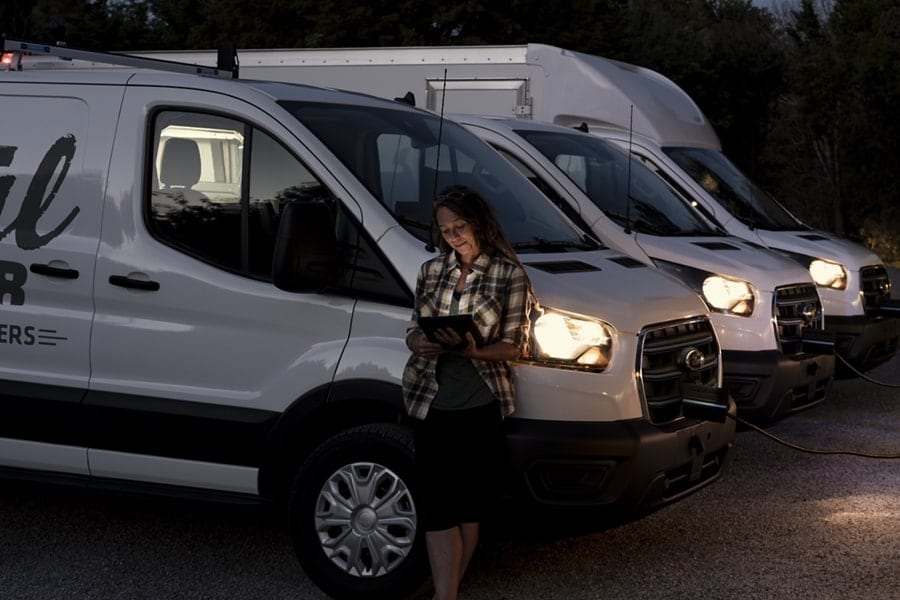 DEPOT CHARGING
For on-site charging capability, ask the experts at Ford Pro™ how you can install hardware and software to make sure that when your fleet isn't on the road, it's getting ready for it.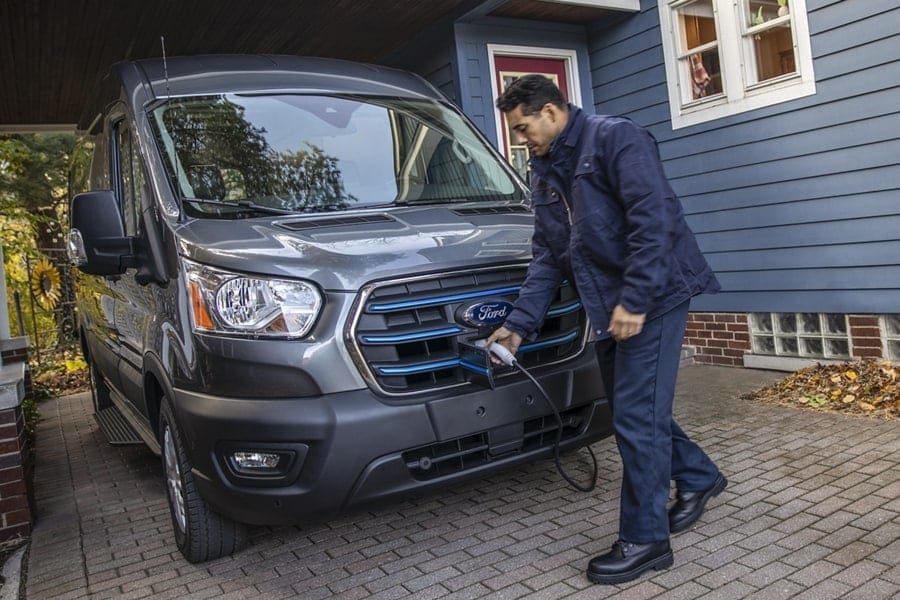 HOME CHARGING
Charge when its convenient. The E-Transit™ model can be charged at home with the Ford Mobile Power Cord. If you're looking to maximize your home charging speed, there's also the available Ford Connected Charge Station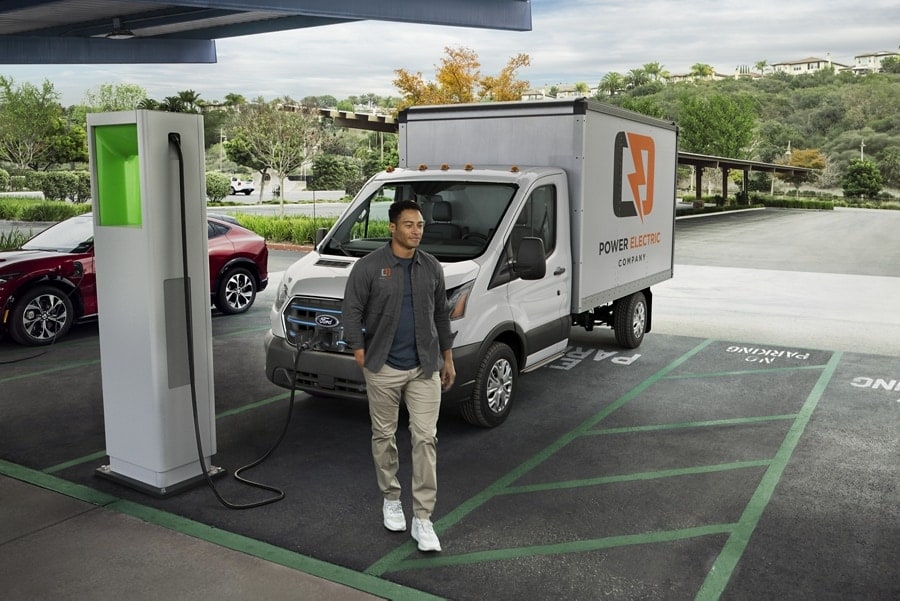 PUBLIC CHARGING
With access to the Ford BlueOval™ Charging Network, your drivers can quickly find and use one of over 75,000 charging plugs* across the U.S.
*Based on original equipment manufacturers (OEM) automotive manufacturers that sell all-electric vehicles and have active charging networks. Department of Energy data used. FordPass®, compatible with select smartphone platforms, is available via a download. Message and data rates may apply.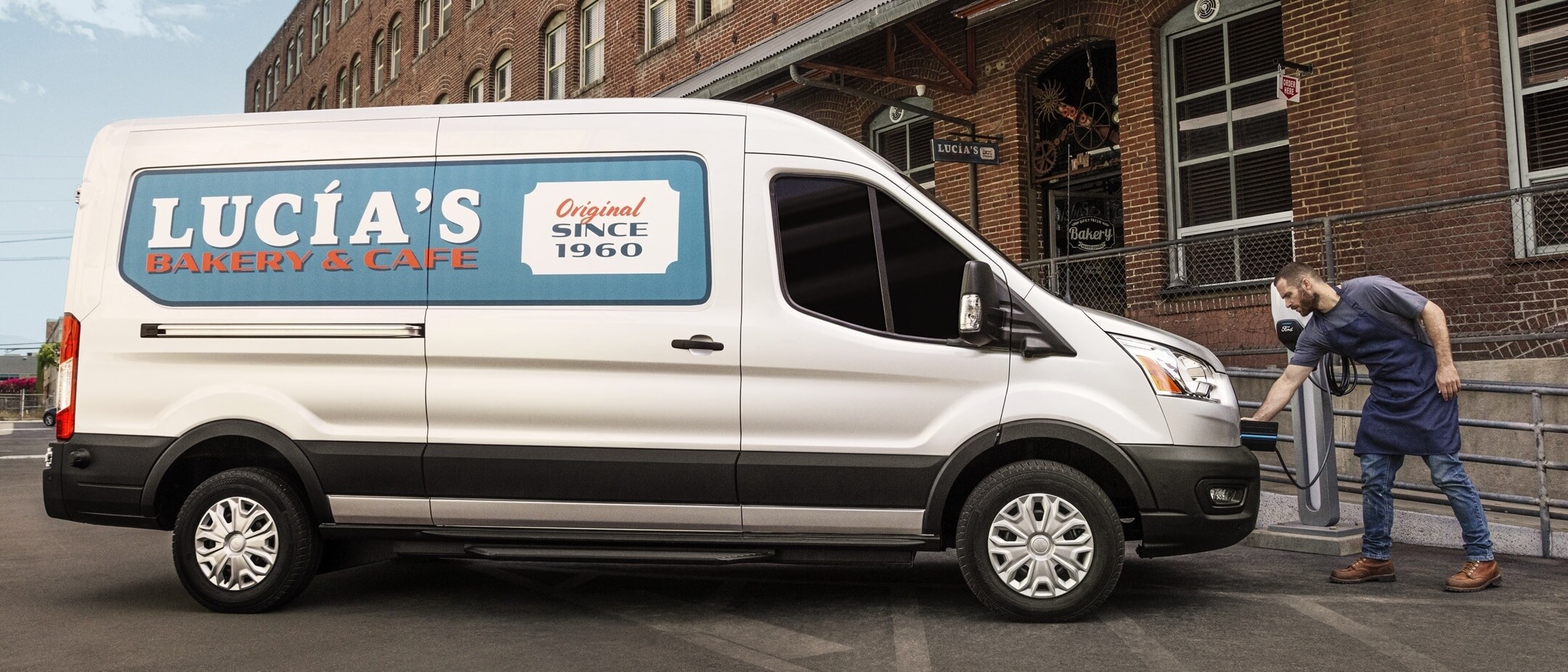 The 2023 E-Transit™ van is both functional and comfortable. The vehicle can be designed to suit your business.
Contact Pines Ford located in Pembroke Pines and serving the areas of Miami and Ft. Lauderdale, for more Information!
How can we help?
* Indicates a required field