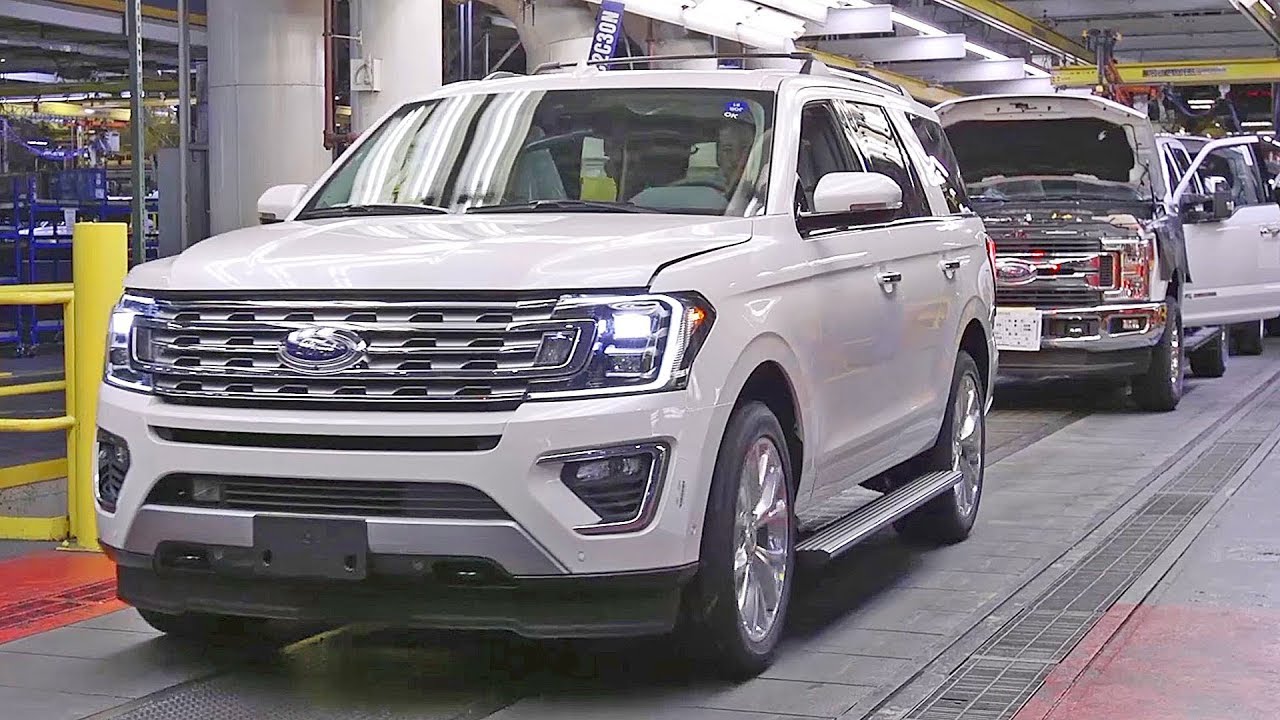 The new Ford Expedition Max has successfully married the aesthetics of full-sized SUVs to the rugged aluminum manufacturing of its predecessor Ford F-150 pickups. Equipped with a long wheelbase, improved hauling capabilities, and smooth handling, there are many reasons to love this new line-up from Ford. Dyed-in-the-wool Ford fans and those new to the brand will be impressed with this premier SUV's improved comfort and design features. Check out these five reasons to purchase the new 2018 Ford Expedition Max from the trusted
Pines Ford Lincoln dealership
today.
1. Aesthetics Inside and Out
While the Ford Expedition Max was inspired by Ford F-150 pickups, its overall look is more in-line with Ford's crossover SUVs. The Max has a much longer wheelbase and cargo space, giving it an expansive and hefty look. Tall doors and streamlined C-clamp headlights give this vehicle a classic, chiseled appearance reminiscent of the Ford F-150.
Inside, the cabin harkens back to the classic Ford F-150. Those who are die-hard fans of Ford's famous line-up will enjoy the look of an almost identical dashboard to the Ford F-150. Beautiful stitching on the seats and interior door panels, and a hint of chrome give a sophisticated shine to the interior.
2. Superior Hauling Capability and Space
The long wheelbase of the Ford Expedition Max adds over nine inches of extra space between the axles. In addition, increased cargo room is available for maximum hauling needs.
Not only does the Ford Expedition Max offer passengers 172 cubic feet of room, but the seats fold down to reveal up to 121.5 cubic feet of cargo space. The seats in the middle can also slide back and forth to allow even more room for hauling.
Power-folding options are also available for seating in the back row, so passengers are comfortable even during long commutes. The new 2018 Ford Expedition Max is a behemoth in passenger and cargo hauling capabilities.
3. Smooth Handling
Despite its hefty size, the 2018 Ford Expedition Max has superior handling capabilities, giving drivers and passengers alike a smooth ride. Fitted with a 3.5-liter, twin turbocharged V6 engine and 10-speed automatic, this SUV has 375 horsepower and 470 pound-feet worth of torque. Independent rear suspension also smooths out any bumps in the road.
4. Comfort
The Ford Expedition Max comes outfitted with comfortable seating accommodations for passengers and drivers. Seating is fully adjustable in all three rows, and the extra-long wheelbase in the Max gives third row passengers even more space than the shorter wheelbase models. Third row passengers can also stretch out and enjoy all the extra elbow room in the Ford Expedition Max's comfortable and modern-looking interior.
5. Entertainment for Extended Commutes
Speaking of passenger comfort, the Ford Expedition Max includes numerous entertainment and high-tech gear that make it one of the premier, passenger hauling SUVs. Boredom quickly abates on extended road trips with six USB ports, and passengers can also take advantage of the ability to watch live, streaming television on two separate screens, outfitted on the back of the front headrests. The Ford Expedition comes with a built-in 4G WIFI system making live streaming possible with SlingPlayer.
Ford enthusiasts and those new to the comfort and style of SUV driving will love these new features that make the 2018 Ford Expedition Max a superior passenger and cargo hauling vehicle. Step inside Pines Ford Lincoln and enjoy the ride in this superior, first-in-its-class SUV today.