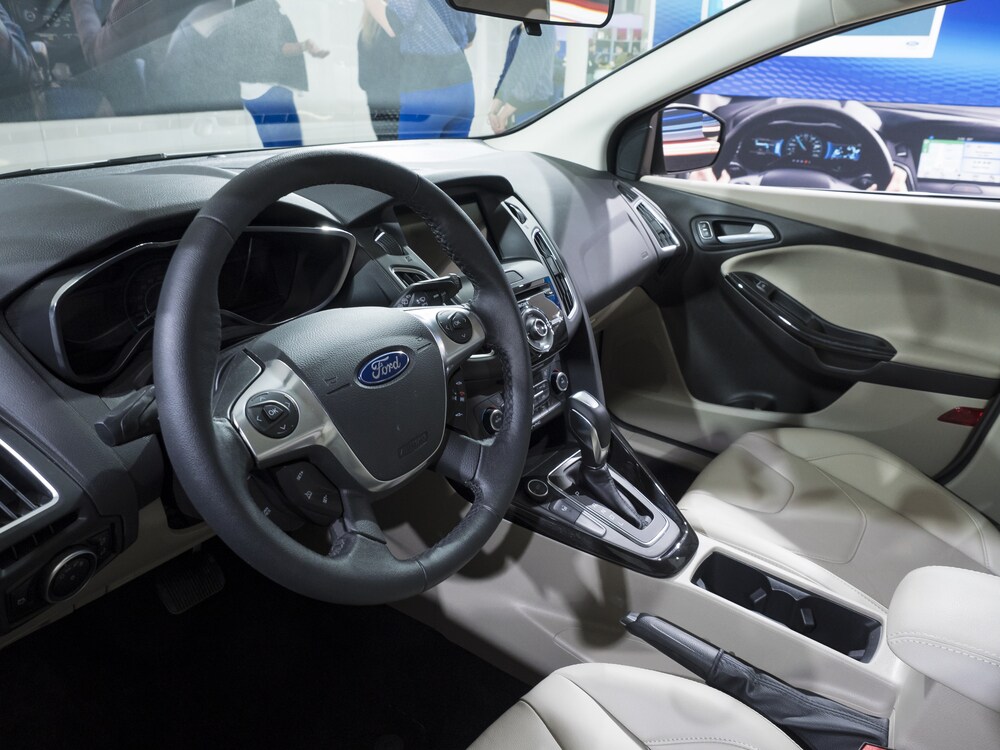 The 2016 Ford Focus was voted a Consumers Digest Best Buy, and the new 2017 Ford Focus certainly lives up to the high standards set by the previous model, utilizing high-tech features, advanced construction techniques, and smart design to build the best Ford Focus – ever.
Advanced technology has always been a driving factor in Ford cars – and the Ford Focus is no different. The new 2017 Focus is available with dozens of premium, high-tech features, and in this post, we'll take a look at the most advanced features available on cars at your South Florida Ford dealer.
Ford SYNC® 3 with Apple CarPlay™ and Android Auto™ Compatibility
Smartphone integration is one of the best features of the 2017 Ford Focus. The Ford SYNC® 3 software suite goes far beyond simple Bluetooth connectivity, allowing you to use voice-activated controls to answer phone calls, control music playback, and even select certain applications that are supported by SYNC® AppLink™.
Advanced voice-activated control allow for a more intuitive connectivity experience – instead of requiring certain commands, the Ford SYNC® 3 software package can understand commands such as "Call Mom", or "next song". The ease-of-use of this service allows you to focus on the road – and not your phone – enhancing driver safety.
One of the most advanced features of the all new Ford SYNC® package is No-Extra-Charge 911 Assist. This feature uses your connected cell phone to make calls to emergency services automatically if an accident is detected. 911 Assist® can call for help – even if you're unable to. This feature goes directly through your cell phone, and needs no intermediary assistance.
High-Tech Driver Assistance Technologies
The 2017 Ford Focus is available with a comprehensive suite of driver assistance technologies designed to keep you safe, and offer you a better driving experience. These include:
- Reverse sensing system – These high-tech sensors provide you with auditory feedback when reversing your car, alerting you to the proximity of your bumper to other cars.

- BLIS® (Blind Spot Information System) with cross-traffic alerts – The built in BLIS® Blind Spot Information System provides you with a detection area focused on your blind spot, using smart sensors to alert you when there are cars in the path of your vehicle. In addition, cross traffic alerts, alert you if traffic is coming towards you while you're backing out of a parking spot.

- Active Park Assist – Active Park Assist can help you parallel park your car with just the push of a button, taking over steering while you work the brake and gas, and making squeezing into even the tightest parking spots a total breeze.
Want To See More? Come To Pines Ford, Your Leading Ford Dealership in South Florida
The 2017 Ford Focus is a total game changer – and these high-tech features are just the tip of the iceberg. If you want to get the full Focus experience, come to Pines Ford today.
Pines Ford serves South Florida areas of Plantation, Fort Lauderdale, Sunrise, Margate, Doral, Davie, Miami and Hollywood FL, and we have a huge stock of all the latest 2017 Ford models.
If you're interested in the high-tech features of the Focus – or just want to see how a basic model feels – come to our dealership today. You're sure to fall in love with the high-tech, all-new 2017 Ford Focus.